Hello Friends!!
"In this busy world where changes are constant, I often get bored of the setting I live in. I have an incessant desire to remodel my space but I hardly find time to do it."
Have you heard this story before? Well, I have…many a times, from both family and friends. How much ever time and money one spends in Home Décor…it is never enough!
Seasons change, and so do our moods. It is certainly difficult to switch decors every now and then, but, we don't have to sit back thinking we cannot do anything at all and keep putting up in a place that has now turned unglamorously mundane. With little tit-bits of add-ons…like some cushions/decorative pillows and accessories, we all can make our home look stylish and up to date.
Here are some brilliant examples of decorative pillows which are in vogue currently. Have a look; you might just end up desiring one!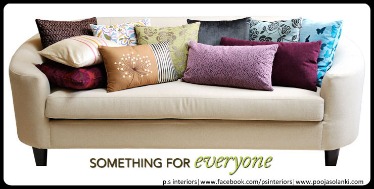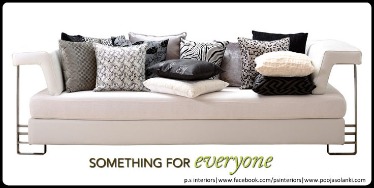 Courtesy: Home Center, Dubai, UAE
The other day I was in Dubai Mall, I came across a store named "Pottery Barn", a Design Studio from US, which is famous for its exclusively designed and innovative product techniques.  Their home furnishings are exceptional in comfort, style, and quality, and each piece in the collection is inspired by time–honored designs from around the world and crafted using the finest materials and processes available.
I personally loved their cushion collections which includes natural colors, linen and cotton fabrics, Chenille Solids and Jacquards, Intricate Ornamentation, Beautiful block and screen printed patterns, and Woven and Embroidered Surface Ornamentation. So I thought of sharing some of their design ideas with you all. I am sure these patterns and colors would bring in cool effect in this summer season.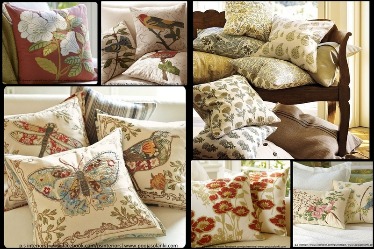 Courtesy: Pottery Barn
Imagine a room with all the furniture but no cushions or decorative pillows. Wouldn't it look barren and boring? Cushions are significant decorating accessories that make your space look stylish and versatile and are light on your budget of home décor. They make up for easy décor alterations too when you desire to add interest all throughout your interiors or even outdoors.
As a designer, I suggest everyone to have a stylish collection of cushions and decorative pillows to accessorize the space in whatever way you like or prefer. With a plethora of cushions available in the market, it gets easy to select textures, colors, designs and fabrics as per your choice and décor style.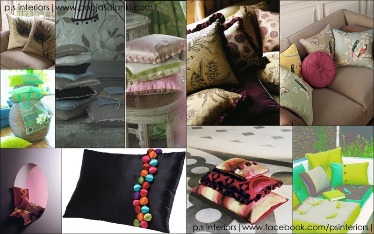 Below are some of my personal favourite cushions and fabrics from Designer Guild, UK. I totally love their bright colors and patterns. If you lead a very casual/informal lifestyle, funky/jazzy designs suit you the best. Then create a good mix of colorful and decorative cushions in unusual shapes and create a delightful atmosphere. Colorful cushions on a white sofa is a brilliant combination.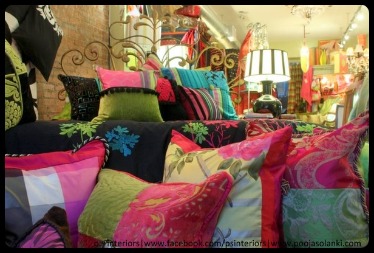 Courtest: Designer Guild Fabrics, UK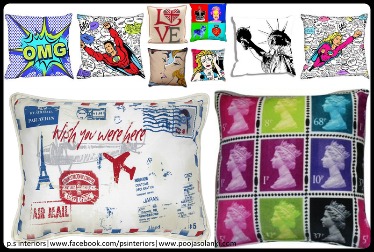 Pop art Cushions goes very well with modern minimalist furniture.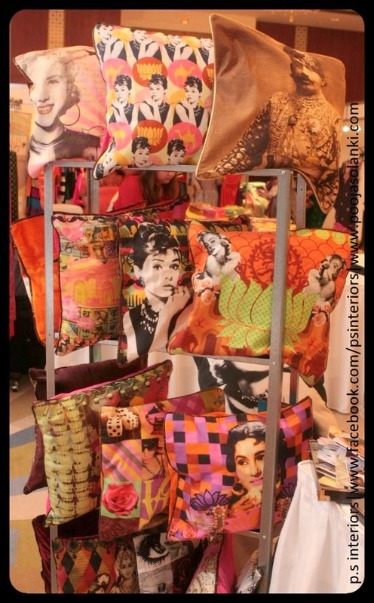 Courtesy: The Arab Crab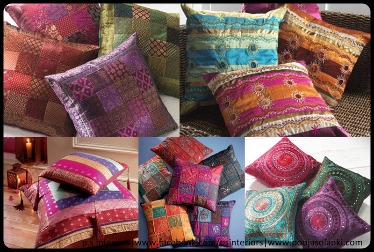 These above cushions are my favorite too. Love the patchwork done with brocades, saris, mirrors and embroidery fabrics. These style brings in a very warm and traditional feel to the whole space.
Cushions as an accessory can be added just anywhere and not just in the living room. They look great on beds, dining chairs and floors too. They complete the entire look and are a complete fit in all sorts of environments. The idea is to choose what you like or what goes well with the present décor style, what matches your taste and what suits your personality.
Cheers!! Love to all :):)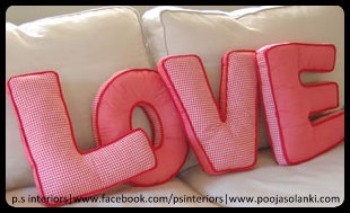 Courtesy: Velvet Brown, UK